Tax-Exempt Benchmarking: Start Conversations and Help Win More Business
Tax-exempt plan sponsors are increasingly looking to financial professionals for plan design expertise.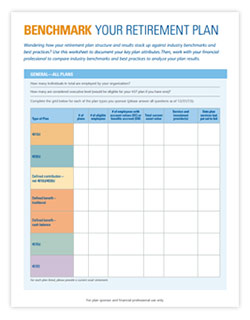 Use the new benchmarking tool from the Principal Financial Group® to help differentiate yourself—and open more doors with tax-exempt plan sponsors.
How can the benchmarking tool help?
By leading with plan design benchmarking, you can:
More easily gather plan specific data upfront from plan sponsors with an on-the-go printable worksheet,
Input data into the quick and easy-to-use web-based benchmarking tool, and
Deliver a personalized, completely customizable output comparing each plan sponsor's retirement program against industry benchmarks.
Request access to the NEW tax-exempt benchmarking tool today!
* required