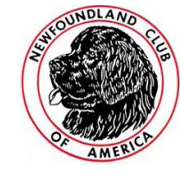 This month, we're spotlighting the Newfoundland Club of America's web and social media efforts.
Let's hear directly from Marylou Zimmerman, Technical Resources/Web Design Team for the club:
"I work on web design and social media for the Newfoundland Club of America — Newf lovers everywhere have embraced technology as a great way to stay in touch and share breed information.
The NCA hosts a suite of seven websites including our main site — www.ncanewfs.org. We also have program sites which highlight the work of our
Charitable Trust
,
National Rescue Network
and
National Specialty information
. Our public education outreach is highlighted on our
puppy information center
and our
library
, which is also an Amazon.com™ e-Store, raising funds for our charity programs. Our final website hosts our public, online
database
where breeders and buyers can research pedigrees, awards and health clearances.
The NCA has a busy page on
Facebook
, which currently has 4230 "likes." Regular posts include "Tip of the Week" on finding a responsible breeder and promotion of activities like the NCA/OFA Health survey which has recently surpassed 2871 entries (more than the Labrador Retrievers). The NCA also hosts a special page just for juniors, a group for National Specialty discussions and a Causes™ page for NCA Charities.
Another forum for communication includes our monthly electronic newsletter "e-Notes" — with a subscription base of over 2800 (about 50% are NCA members) with an accompanying online
archive
.
In the last year the NCA has added article marketing via the
Squidoo™ forum
. The club uses this tool as another avenue to share information with audiences that may not find us through more traditional avenues.
Finally, the latest social media adoption for the NCA has been
Pinterest
. In just a few short weeks we have launched eight boards and have garnered 161 followers. It's used primarily as an educational tool — we highlight Newfoundlands in the News, and provide an avenue for people to access more in-depth information via our websites and other online information."
Thanks for these wonderful ideas, Mary Lou!